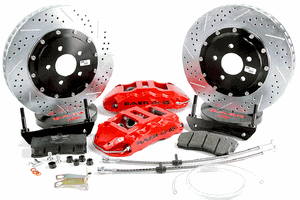 Baer 4261421 15" Extreme Front Brake Kit (2015-2020 Mustang)
The Baer Extreme + Front Brake system for the S550 Mustang is the ultimate upgrade designed for heavy duty street use. This front setup matches the rear Baer system perfectly for stunning good looks and improved stopping power. This system features the 6S 6-piston Monoblock caliper mounted to a 15" 2 piece slot, drill, zinc plated rotor. Baer systems include stainless steel brake hoses as well as calipers that have D.O.T compliant dust and weather seals. The 6S and 6R (R-Spec) calipers are Baer's Flagship offering, and are built out of a single piece of US sourced 2618 forged aluminum.
Application: Ford 2015-17 Mustang S550 ALL
Notes: Designed to be used with 2015+ Mustang front spindles and hubs. Designed to be used with stock brake hoses.
Rotor Size/Type: 15" 2-piece
Piston Count: 6 piston Monoblock
Pad Type: D1247 (also known as DR11)
Minimum Wheel Size: 19" (Use template to verify fitment)
Includes: 6 Piston Calipers, 15" 2pc rotors
Why Purchase the Extreme+?
US Made Forged MonoBlock caliper
Offers the exact same look front and rear. Baer is the only brake manufacturer that offers this!
Calipers have dust and weather seals
Proper banjo fittings (NOTE: Baer does not use any pipe thread fittings)
Everything needed per corner (including hoses and fittings) except for in General fit applications
6061 T-6 billet aluminum hat (anodized black) and bolted to the rotor
High grade U281 fine thread stainless hardware (with captured nuts). Rotor comes pre-assembled.
Includes a set of 6061-T6 billet machined hubs with quality bearings installed. Hubs are pre-assembled with bearings, races, studs and packed with Redline synthetic grease.