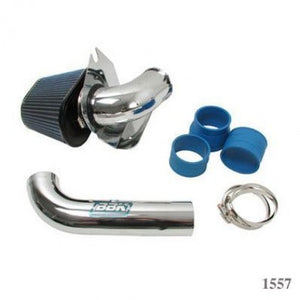 BBK - (1986-93) 5.0L Mustang Fenderwell Mount Cold Air Intake (Chrome) - 1557
BBK 86-93 5.0L Mustang Fenderwell Mount Cold Air Intake System (Chrome)
As one of today's favorite performance bolt-ons, cold air intake systems kits deliver great looks as well as real world horsepower gains. 

As the originator of the first of these chrome systems back in the early nineties, our famous BBK line continues to offer the leading edge quality and function that BBK customers expect.

All BBK cold air intake systems utilize a high flow washable conical cotton element filter and most are designed as fender well units to maximize performance. In addition to our standard hand polished and chrome plated cold air intake systems, we now offer a variety of kits utilizing a custom designed lightweight aluminum inlet casting, which is hand polished and chrome plated. These trick castings deliver unmatched quality and a custom fit for a variety of auto and truck applications.

Each cold air intake model has been designed and dyno tested at the BBK headquarters in Southern California to maximize performance.