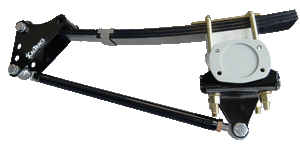 CALTRACS TRUCK: '99-'18 CHEVY/GMC C1500 STANDARD
Designed especially for trucks. Bolt On traction system. Full pre-load adjustability, keeps axle from rotating/maintains pinion angle, eliminates spring wrap up, improves 60' times. Black powder coated. Berlin-style pivot plates for most applications.
.
This kit is specifically designed for the '99-'18 GMC Sierra C1500 and Chevrolet Silverado C1500.
.
Specializing in leaf spring traction systems since 1995, the Calvert Racing Team knows what it takes to get your truck hooking harder than ever whether you're drag racing, sled pulling or just towing. Helps eliminate wheel hop. Designed by racers for racers, CalTracs boasts unsurpassed quality and craftsmanship; the competition is eliminated right off the starting line. The preload link is made with Chromoly, lightweight but strong, ensuring maximum leverage and minimum flex. HD Rod Ends have a radial static load capacity of over 14,000 pounds. Two-piece aluminum front spring eye bushings assembly keeps the front pivot squared and rigid. The rear mounts are made with 5/16" mild steel to withstand the correct torque on your u-bolts, keeping the rear end from moving.
.
NOTE: Your final product may vary from photo depending on your application. Some applications require additional hardware. Does not include u-bolts.