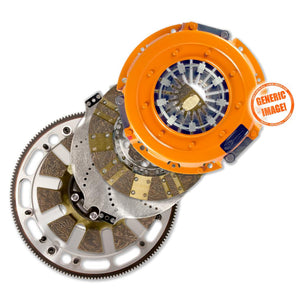 Centerforce - 413115705 - 2010-2014 Shelby GT500 DYAD Twin Disc Clutch Kit - 413115705
Clutch Kit, DYAD DS, Twin-Disc, 1.125 in.-26 Spline, 10.4 in. Disc, Steel Flywheel, Ford, GT500, Kit
Brand:
Centerforce
Manufacturer's Part Number:
413115705
Part Type:
Clutch Kits
Product Line:
Centerforce DYAD DS Clutch Kits
SR Part Number:
CTF-413115705
UPC:
788442033823
Clutch Usage:
Performance
Clutch Disc Quantity:
Dual
Flywheel Included:
Yes
Input Spline Quantity:
26
Input Shaft Diameter:
1.125 in.
Disc Diameter (in.):
10.400 in.
Disc Diameter (mm):
264mm
Disc Material:
Organic/Carbon composite
Disc Style:
10-paddle/Full face
Hub Style:
Sprung/Unsprung
Pressure Plate Style:
Diaphragm
Throwout Bearing Included:
No
Alignment Tool Included:
Yes
Pilot Bushing Included:
Yes
Flywheel Material:
Billet steel
Ring Gear Tooth Quantity:
164-tooth
Flywheel Bolt Quantity:
8
Engine Balance:
Internal
Counterweight Assist:
Yes
Mounting Hardware Included:
Yes
Quantity:
Sold as a kit.
Centerforce DYAD DS Clutch Kits
Drivers need a clutch that offers smooth engagement, quiet operation, light pedal effort, and high-end holding capacity. Centerforce DYAD drive system multi-disc kits offer that, and more. These kits are designed and developed to meet the needs of modern high-end vehicles. This technology allows engine torque levels to exceed 750 ft.-lbs. and still be driven every day. Take your vehicle to the next level in high performance with DYAD DS multi-disc clutch kits and feel the difference!