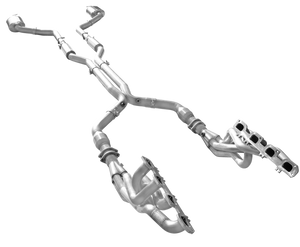 American Racing Headers - Chrysler 5.7L D-PORT(300/Charger/Magnum) 2009-2014 Full System
The folks at Chrysler created the LX platform and built four distinguished models around it. It started in 2005 powered by the 5.7L Hemi, in 2006 with the powerful 6.1L SRT8 option and as of 2012, the amazing 6.4L. That LX platform still continues today.
This concept allowed us to create a long tube header design to fit all models. For the SRT8 and the 2009-2014 5.7L with D-Port heads, we went a few steps further by offering our systems with various primary sizes, (1-3/4"', 1-7/8" and 2") to fit applications from stock to well over 1000 RWHP. When necessary, we will also custom size our merge collectors.
All systems are manufactured using only the highest quality, 100% US sourced materials and they're available as a direct fit to your catback or as a full system. Feel free to contact us and we'll go over what you need in detail.
ALL American Racing Headers Exhaust Systems are for OFF-ROAD use only.