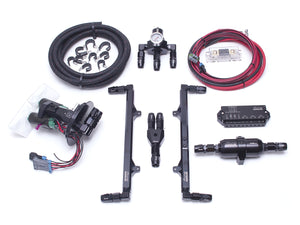 Fore Innovations "HPP" - 2011-2017 Mustang GT L4 Fuel System (dual pump)
1200+ rwhp capable return fuel system made with top shelf components. The feed line is split by our y-block, fed into the back of the fuel rails, then the front of each rail is connected to our F2i fuel pressure regulator.
INCLUDES
S197C / S550 Fuel Pump Module (dual pump)

F2i Fuel Pressure Regulator

2011+ Mustang GT Billet Fuel Rails

2-1 compact billet Y-block

88mm Inline Fuel Filter

FCV Checkvalve

All fittings, hose, and hardware necessary to complete typical fuel line plumbing
-30' of fuel line of your choice
-Qty 14, compression style billet hose ends

-Qty 8, straight AN to o-ring fittings
-Qty 2, 1.25" fuel rail extensions

-Qty 6, billet low profile 90º AN to o-ring fittings
-Qty 2, billet low profile 180º fittings

-Qty 10, hose straps with stainless mounting screws

-Qty 2, 1/8 NPT plugs
Fits:
2011+ Mustang GT with OE, Boss 302, or FRPP intake, Whipple, Kenne Bell, Vortech, Procharger superchargers or any turbo system.
Add-Ons & Upgrades: (It is not worth buying a fuel system without these add ons. We do them all the time & from past experience we can promise you it is worth going with this set up) 
Ethanol blends, gasoline, race gas
Coyote (GT) Fuel Rails 

Primary Fuel Pump - TI Auto F90000285
Secondary Fuel Pump - TI Auto F90000285
FC3 Staged Controller with wiring 
Startlite -8 Feed / Return
Added - Billet Mounting Bracket 
Honeywell Pressure Switch for FC3 
Flex fuel sensor intercept fittings