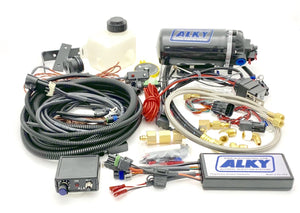 Alky Control - Hellcat Challenger kit
Underhood kit to use OEM washer tank for the Newer Hellcat/Challenger/Charger. Kit utilizes the OEM washer tank as the methanol tank. Then relocates the original washer motor and original float to the provided mini tank so it keeps washers and float functional. Kit ties into the 2.5/3 bar map sensor on top of the blower for trigger.
For applications like the Challenger/Charger with a Procharger, select the 2 bar map option if car is using a 1 bar for engine management.