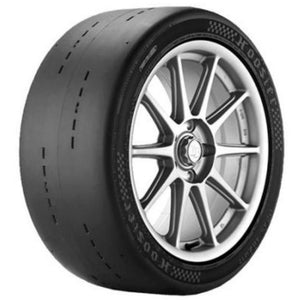 Hoosier DOT Drag Radial Tires - 245/45R17 - 17328DR2
**Please ask for shipping date before ordering. Just because you can purchase them does not mean they are ready to ship** 
Brand:
Hoosier Racing Tire
Manufacturer's Part Number:
17328DR2
Part Type:
Tires

Product Line:
Hoosier DOT Drag Radial Tires
SR Part Number:

HOO-17328DR2
Wheel Diameter:
17 in.
Tire Size:
245/45-17
Sidewall Style:
Solid white letters
Tire Construction:
Radial
Tire Diameter:
26.00 in.
Section Width:
10.00 in.
Tread Width:
9.20 in.
Minimum Recommended Wheel Width:
7.50 in.
Maximum Recommended Wheel Width:
9.00 in.
Directional:
No
Asymmetrical Tread Pattern:
No
DOT-Approved:
Yes
Run-Flat Technology:
No
Tube Required:
No
Quantity:
Sold individually.
Notes:
Hoosier D.O.T. drag radials are designed and approved for D.O.T. class racing only. They are not approved, nor recommended for any kind of street use.
Hoosier DOT Drag Radial Tires
Hoosier DOT drag radial tires meet the Department of Transportation requirements for marking and performance only. They feature a special compound to provide good traction, making them perfect for classes that require street-legal style tires. Hoosier DOT drag radials are neither intended for street use nor use on public roads.