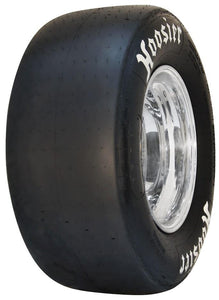 Hoosier Drag Bracket Radial Slicks - 28/10.5R17 - 18825DBR
**Please ask for shipping date before ordering. Just because you can purchase them does not mean they are ready to ship** 
Brand:
Hoosier Racing Tire
Manufacturer's Part Number:
18825DBR
Part Type:
Tires
Product Line:
Hoosier Drag Bracket Radial Slicks
SR Part Number:
HOO-18825DBR
Wheel Diameter:
17 in.
Tire Size:
28 x 10.50-17
Sidewall Style:
Solid white letters
Tire Construction:
Radial
Tire Diameter:
28.00 in.
Section Width:
11.50 in.
Tread Width:
10.50 in.
Minimum Recommended Wheel Width:
10.00 in.
Maximum Recommended Wheel Width:
10.00 in.
Directional:
No
Asymmetrical Tread Pattern:
No
DOT-Approved:
No
Run-Flat Technology:
No
Tube Required:
No
Tire Compound:
DBR
Quantity:
Sold individually.
Hoosier Drag Bracket Radial Slicks
Hoosier drag bracket radial tires are engineered for consistent ETs and maximum traction, with superior construction and compounding for most drag race applications. These slicks offer lower rolling resistance, making these tires quicker than bias-ply models in most applications. Their design allows them to always have the same roll out, eliminating the need to match circumferences, while also eliminating the need to run tubes. Hoosier drag radials are intended towards bracket racers as well as, but not limited to, those racers who are seeking the newest innovation in performance of quicker, consistent, reliable, and affordable tires for the weekend sportsman racer.