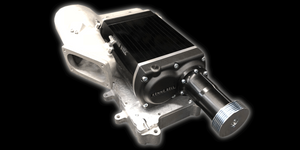 KENNE BELL (1996-1998) FORD MUSTANG COBRA 4.6L SUPERCHARGER 2.1 COMPLETE KIT - TS1000-96C
This is a Kenne Bell Supercharger System Kit with a Black Powdercoated 2.1 Twin Screw head unit and stock 6 rib pulley setup for the 1996-1998 Ford Mustang Cobra 4.6L which will add 108+ of rear wheel horsepower on just 6-7 psi of boost using 91 octane gas! This system is 100% complete, including monochip, fuel pump, cold air kit, and tuning for stock vehicles or those with a catback only, just bolt on and drive! If you have other modifications such as headers, midpipe, camshaft, etc. then look at the Tuner kits.
DETAILS:
Horsepower gain: 108+ RWHP
2.1 billet twin screw supercharger head unit, satin finish, 6-15 psi on 91 octane
No intercooler required
"Open House" High Flow 20HP Manifold
Billet Bypass Valve Assembly
Belt Drive System: Stock 6 rib
Fuel Pump Booster Supplied: BOOST-A-PUMP Supplied
Fuel Injectors Supplied: Not Required for 6-7 psi on otherwise stock cars
Computer/Ignition Mods.: Monochip Supplied
System is 100% complete with OEM quality and appearance

FEATURED DETAILS:
• +135HP/ +123 ft lbs. torque (108HP / 98ft lbs rear wheel @ 6-7 psi).
• Twin Screw Design. More Efficient than the Eaton / Roots type. (Cooler air charge temp and less HP to drive)
• Looks Factory. Mounts on top of engine.
• Includes Kenne Bell "Open House" hi flo 20HP manifold. (Eliminates restricitive stock manifold).
• Whisper Quiet. No embarassing, annoying noise.
• No external oil lines or drilling holes in pan.
• No other changes necessary.
• Works with stock gears.
• No boost lag.
• 60-80 degrees cooler air charge temperature and requires 10-16 less HP to drive than roots style.
• No other engine or transmission changes required. Everyhting included.
• Not totally dependent on rpm for boost as with centrifugals.
• Fits under stock hood.
• Bolts to stock lower manifold.
• No intercooler required.
• BOOST-A-PUMP included. Only activates under boost.
• OPTIMODULE (chip) also included.
The '96-'98 Cobra is a great car but the 4V lacks low and mid range punch. That's why Ford rpm "staged" or "delayed" opening all 4 inlet ports simultaneously. It hurt low end torque. The Kenne Bell Kit gives the '96-'98 4.6 that much needed HP and torque boost in low and mid range – and plenty on the top end. Gears help but hurt fuel economy and increase engine wear. And centrifugal superchargers make good top end power but don't supply the much needed higher boost for low and mid range performance. This is a powerful, quiet, flexible kit that really brings the car to life. Standard Kit is 6 psi (91 octane) or 8 psi (94 octane) with plenty of room to grow to 11 psi without intercooling (see "Octane").
Kenne Bell factory tuned with OEM grade equipment. No expensive custom tuning by others is required or recommended. Dual SWITCH CHIP® "POWER" (street) & "SHOOT OUT" (competition) Optional $99
Note: Kit has been upgraded to the 2.1L Billet Twin Screw. A 5" underdrive pulley is included in kit. The pulley adds another 6HP.
12 Month warranty direct from KB***

Part #: TS1000-96C