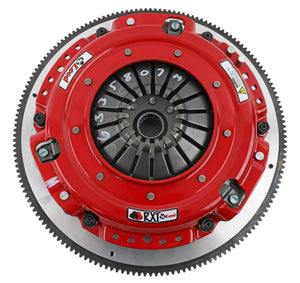 McLeod Racing 6335807M - McLeod RXT Street Twin Clutch Kits
Clutch Kit, RXT Street Twin Power Pack, 1.125 in. - 26-spline, Ceramic Disc, Pressure Plate, Aluminum Flywheel, Ford, 4.6L, 5.0L, 5.2L, 5.4L, Kit

McLeod RXT Street Twin clutch kits are ideal for the extreme horsepower enthusiast who wants performance and economy. Capable of handling up to 1,000 hp, the RXT Street Twin clutches are for those who've kicked it up another notch—but still require streetability. The ceramic facing on the clutch discs provides slightly aggressive engagement with a soft pedal effort, making these clutches suitable for most street performance enthusiasts. Match your vehicle specs to the correct model from McLeod.
Brand:
McLeod Racing
Manufacturer's Part Number:
6335807M
Part Type:
Clutch Kits
Product Line:
McLeod RXT Street Twin Clutch Kits 
SR Part Number:
MCL-6335807M
UPC:
887753019332
Clutch Usage:
Performance
Clutch Disc Quantity:
Dual
Flywheel Included:
Yes
Input Spline Quantity:
26
Input Shaft Diameter:
1.125 in.
Disc Diameter (in.):
9.688 in.
Disc Diameter (mm):
246mm
Disc Material:
Ceramic
Disc Style:
Full face
Hub Style:
Unsprung
Pressure Plate Style:
Diaphragm
Throwout Bearing Included:
No
Alignment Tool Included:
Yes
Pilot Bushing Included:
No
Flywheel Material:
Billet aluminum
Ring Gear Tooth Quantity:
164-tooth
Flywheel Bolt Quantity:
8
Counterweight Assist:
No
Mounting Hardware Included:
No
Quantity:
Sold as a kit.
Additional features include:

* Alignment tool
* Lighter-than-stock pedal feel
* Available with dedicated flywheel or adapter ring for factory flywheel
* CNC-machined and anodized flywheel adapter ring
* Smooth engagement with excellent release qualities
* Ceramic facings on disc increase holding power over similar organic linings
* Low rotating mass for quick revs
* Blanchard ground floater with multiple straps to reduce noise for streetability
We highly recommend getting the bundle deal 

Includes: 
- McLeod Racing 1200 - McLeod 1200 Series Hydraulic Throwout Bearings

- McLeod Racing 14-301 - McLeod 1400 Series Hydraulic Throwout Bearings