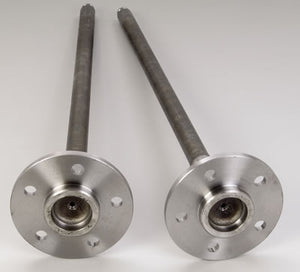 Moser Engineering - 1994 FORD MUSTANG Moser Engineering Replacement C-Clip Axles (A882852)
Axles, Direct Fit, C-Clip, Rear, 1541H Steel, 28-Spline, Ford, 8.8 in., Pair
Brand:Moser Engineering
Manufacturer's Part Number:A882852
Part Type:Axle Shafts, Direct Fit
Product Line:Moser Engineering Replacement C-Clip Axles
Summit Racing Part Number:MSR-A882852


Axle Type:C-clip
Axle Length (in):29.969 in.
Wheel Stud Pattern:5 x 4.50 in.
Inner Axle Splines:28
Axle Material:1541H alloy steel
Wheel Stud Type:Press-in
Wheel Studs Included:No
Bearings Included:No
Seals Included:No
Quantity:Sold as a pair.
In-Store Pickup:Choose In-store pick-up (OH, NV, GA, TX) on our web site.
Moser Engineering replacement C-clip axles are non-tapered with hardened bearing seats and machined C-clip grooves to fit OEM applications. These forged steel street axles are available in nearly two dozen lengths—and if you choose to narrow your rear-end at a later time, Moser axles can be shortened and re-splined. Order the model designed for your vehicle and axle application.