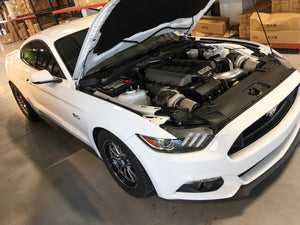 ON3 Performance - (2015–2017) Mustang GT 5.0 2nd Gen Top Mount Twin Turbo System – S550
What do I need to finish off my install? This kit is a bolt on kit that is good for 550-600rwhp with a Boost a Pump. Although not required, we highly recommend getting billet oil pump gears & sprocket. That is the weak link on the coyote. You are not required to get any upgrades to make this kit work & are completely optional. If you have any questions, reach out to us via e-mail or phone. - Thanks! 
Each Kit Will Include:
On 3 Performance 55mm Journal Bearing Turbochargers (Ceramic Ball Bearing Upgrades Available)
On 3 Performance V-band Inlet / Outlet Exhaust Housings
On 3 Performance 44mm Compact V-Banded Wastegate Set w/ 6psi Springs(2pcs)
On 3 Performance 50mm Blow Off Valve
On 3 Performance Aluminum Fabricated Overflow Tank
Stainless Steel Braided Oil Feed Kit
CNC Billet Oil Feed Adapter
Turbo Oil Drain Hose / Fitting kit
Stainless Steel V-Band Clamps
Custom A/C Line
Laser Cut Intercooler Brackets
ECU Relocation Kit
Main Fuse Panel Relocation Kit
Hotside Includes:
On 3 Performance Custom Cast Forward Facing 304 ss Turbo Headers
3″ 304 ss Downpipe Set
3″ Stainless Lapband Exhaust Clamp Set
3″ Stainless V-band Clamps
Coldside Includes:
Polished 6061 Aluminum Cold Side Tubing Kit
On 3 performance 5ply Custom Silicone Coupler Kit
On 3 Performance 304 ss T-Bolt Clamp Kit
On 3 Performance Air to Air 3.5″ Bar & Plate 1200HP Intercooler
On 3 Performance High Flow / Washable Air Filter Set (2pcs)
ON3 - This question is asked on a daily basis and it all comes down to what power you plan to make.  First is fuel, if you plan to stick with 93oct, your stock fuel system is good to around 650rwhp with a boost a pump.  If you plan to run e-85, you need to go to our On 3 store and review our 2015 – 2017 Mustang return fuel system.  You will need that if your planning on e-85 or going over 650rwhp.  Everyone knows the factory 5.0 oil pump gears are weak.  Most stock engine failures we see are caused by these failing, not piston or rods.  We suggest you add and upgrade your OPG and crank sprocket when purchasing the turbo system.  As you will notice we have many upgrades available which you can select.  Some are highly recommend and others are optional to make the installation that much easier. 
Lets talk drivability since so many people want to put miles on their cars.  If you have a proper tune, your car should drive like stock until you are into the gas.  Clearly there is going to be a HUGE difference WOT but in most cases, there is absolutely no reason you cannot daily drive a turbo car.  Fuel economy should remain close to the same and some instances, you can gain fuel economy.  As far as reliability goes, we have 5.0 coyote Mustang customers with 50k miles on their cars with boost.   Another great benefit is the 55mm/61mm turbos we are using as they are into boost so quick.  You are going to notice better low end acceleration outside of WOT situation as they start making boost in the lower RPM range.  Meaning part throttle from traffic light to traffic light, there is undoubtedly an improvement you are going to feel.
On 3 Performance is proud to announce the newest coyote turbo system that we have developed for the S550 chassis Mustang 5.0 cars.  As you may know, we have been selling our low mounted system over the last few years.  Sales have been strong and people like the kit however a lot of people really want to be able to see the turbos and show it off.  We have designed what we believe is the best system available for the S550 platform, visually and performance related.  We used some of the best products we make in order to design this new system.  Starting with the manifolds, we designed around are already proven cast stainless steel manifold runner which has been 7's in the quarter mile.  This manifold is a forward facing design and places each turbo right up front.  As far as the visual impression goes, it doesnt get much better than this.  The turbos are right up top, front and center.  As far as turbo selection goes, almost all turbochargers use 4 bolts on the inlet flange.  With our kit, we include standard our newest exhaust housings which are V-band inlet and outlet.  This makes for unlimited adjustment and one simple clamp to secure the turbocharger in place.  Not only does this make for an easier install, it also has its power gains being that you are flowing air from a round pipe directly into a round housing.  Traditional housings are rectangle shaped and the transition will create a turbulence that has been proven to lose horsepower over our design.
During our testing, we have proven the On 3 55mm turbos to around the 800 wheel mark on 13psi and e-85(stock engine).  If you are building the engine and taking it one step further, our On 3 billet 61's might be the option for you and those have proven to make around 1060rwhp to this point through an automatic.  With this series turbo we use, the power is immediate and comes into boost compared to the typical t4 turbo we normally design around.  This makes the car have insane street manners from light to light and yet still have serious power potential.  Our shop car as it sits has been 9.70's as 144mph and clearly has plenty left in it.  This is a true bolt on system that has the potential to put your Mustang 5.0 directly into the 9's.
Moving on from the turbos, we were able to incorporate dual 3.0″ 304 stainless steel downpipes to clear all accessories.  You are going to maintain your A/C, Power steering, brakes, etc, no accessories are lost however this kit will require you to swap to an 11-14 5.0 alternator.  We leave this option up to you, if you want to find one on your own, its your call or select it in the optional items list to include it.  On each down, we have pre-welded wideband bungs for monitors on the dyno as well as another set for your factory o2 sensors.  The downpipes are v-banded and route below the car to tie into the catback.  As far as boost control and wastegates go, we designed the kit around a set of our compact 44mm On 3 wastegates.  These are v-banded for a quick and easy install and the dump tubes are routed back through the downpipes.  If you are not familiar with turbo systems, the wastegates are what control boost and they are setup out of the box for roughly 6-7psi.  This should be enough to yield the car with over 600rwhp.  Our shop car put down a little over 660rwhp on wastegate spring only before adding more boost.
Another huge improvement over the low mount system is the cold side.  Many people do not like the air filters low or in the front bumper like they require.  With our new On 3 Top Mount system, the air filters are tucked up top in the engine bay and the cold side plumbing is much shorter.  There are no low points either with this system which most people will love.  A 15″ wheel setup with springs is rather low and almost any system on the market will scrape.  That is NOT the case with our system, its tucked up, no low point and ground clearance wouldn't be an issue even if your car is on bags!  The cold side tubing is all fabricated from 6061 aluminum and each pipe is bead rolled to ensure the couplers stay in place while under boost.  Also standard with our turbo system you will receive stainless t-bolt clamps which provide the most clamping pressure possible instead of an old school worm clamp.  Our couplers are made from 5-ply silicone so they will hold up to virtually any demand.  As far as the intercooler goes, this is the same core design we have used for the last 2 years in our already 1000+hp proven low mount system.  Its uses our On 3, 3.5″ bar and plate core with aluminum fabricated end tanks.  Everyone going turbo loves the blow off valve, our system was designed using our 50mm blow off valve.  Lastly one other great feature is you can run your stock MAF sensor without having to upgrade to an expensive digital unit.  We fabricated the MAF to be housed into our 3.5″ charge pipe so your tuner will be able to scale and support up to or over 1000rwhp with the stock meter