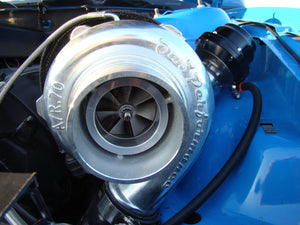 On 3 Performance 67mm Ceramic Ball Bearing Turbos Upgrade
Cold Side
Compressor Wheel 67mm
.70 a/r
4" Inlet and 2.5" Compressor Outlet
Inducer- 67.05mm
Exducer- 84.10mm
Exhaust Side
Exhaust Housing T-4 Flange
.96 ar Exhaust Housing Standard, .68ar Housing Optional
3.0″ Vband outlet
Inducer- 74.5mm
Exducer- 65mm
Description
Our primary use for this turbo is with our On 3 Performance twin turbo systems.  We have made into the 600rwhp using them on our single turbo applications and been over 1200rwhp on twin turbo applications  This unit really shines on the applications ranging anywhere from 400hp all the way up to the 700hp range. We have sold this turbo successfully now since around 2009 and have a large amount of them running around and making great power. On of the first cars our turbo was tested on was a 93 Cobra, 347ci and going 10.1x's on 8psi. No physical dyno numbers on that specific car but this car was running 13psi on our 70mm On 3 Performance turbo prior to the upgrade to accomplish almost identical track number.
ON 3 PERFORMANCE TURBO KIT CUSTOMERS INTERESTED IN UPGRADING TO THIS: Only $399 if you are purchasing an On 3 Performance Turbo system
We have ran our turbochargers on anything from a daily driver to just the weekend cruiser. When setup properly they are very reliable and make exceptional power. The On 3 Performance 2002 GT on our website has our 70mm unit and has been daily driven, put through quite a few passes at the track, 20,000+ miles to this point and still in perfect operating condition.
Please do not email and ask if this turbo will work on your application. All specs of the turbo are posted above and would recommend to be used on at least 3.0l+ applications. We cannot answer and know every kit out there and if its going to be an identical bolt in upgrade. Generally it will be a simple upgrade in most cases but could involve you cutting/welding
Recommend Turbo Feed and Drain:
To ensure the longevity of your turbocharger, we normally run 1/8″ feed and a 5/8″ return. This is very important and without this properly sized, you can cause damage to the product.  The ceramic BB line of On 3 Performance Turbochargers will require the oil feed restrictor.  So if you are purchasing this, be sure to also add that item to your cart when checking out.  You will chance damaging the turbocharger if you do not restrict the ball bearing units