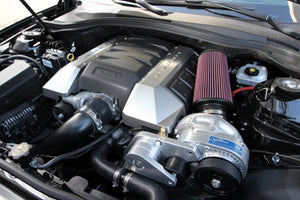 Procharger - 2010-2015 Camaro SS LS3, L99 Stage II Intercooled Tuner Kit P-1SC-1 (1GT302-SCI)
HIGH OUTPUT AND STAGE II SUPERCHARGER KITS AVAILABLE: 575+ HP TO OVER 1000+ HP
When it comes to adding big, reliable power to late-model LS engines, ProCharger simply dominates. With the largest, most reliable power gains on pump gas, ProCharger-powered 2010-2015 Camaros dominate both on the street and on the strip. ProCharger was the first to offer a supercharger system for power-hungry 2010 Camaro owners, was the first to add 200+ HP to otherwise stock LS3 Camaros, and was also the first to power a 2010 Camaro SS into the 9's.
Backed by the strength and support of the industry leader, ProCharger offers you the greatest power potential and most choices for your 2010-2015 Camaro SS.
LEADING THE WAY: PROCHARGER INTERCOOLED STAGE II SYSTEM AND TUNER KIT FOR MODIFIED 2015-10 CAMARO SS
Realizing the performance potential of modified LS-engines, ProCharger is once again leading the way with an Intercooled Stage II System and Tuner Kit designed specifically for the 2015-10 Camaro SS. When compared with the industry-leading HO System and Tuner Kit, the new Stage II offering includes a larger, 1,300 HP front-mounted air-to-air intercooler, along with a new, low restriction air inlet and larger air filter (battery terminal relocation bracket is included, drilling required, Stage II only).
The new Stage II Supercharger kit includes injectors, computer programmer and utilizes an 8-rib, dedicated drive and tensioner system, with a 12-Rib Drive* dedicated drive available as an upgrade. The heavy-duty bracket provides a solid, stable mounting location for a wide range of ProCharger models, including the standard P-1SC-1, and optional D-1SC, F-1D/F-1/F-1A or F-1C/F-1R supercharger models.
STAGE II TUNER KITS
The Stage II Intercooled Tuner Kit is identical to the complete system, but omits fuel injectors and computer programmer. Higher boost and power levels are available for modified engines.
PROCHARGER CAMARO SS POWER UPGRADE PATH FOR MODIFIED ENGINES
Leading the way with supercharger and component upgrades, ProCharger already has developed a power upgrade path for 2015-10 Camaro owners who will be modifying their LS engines. Give our Sales Team a call today for more information.
7 PSI on stock applications=600+ HP on 6.2L (LS3) manual transmission and 575+ HP on 6.2L (L99) automatic transmission and 1000+ HP on modified engines. Stock or modified LS-engines, a ProCharger supercharger is The Ultimate Camaro Power Adder.
PROCHARGER 2010-2015 CAMARO SS CHOICES & UPGRADES
Satin, Polished, or Black Supercharger and Bracket Finish
Helical Gearset for Noise Reduction (P-1SC-1 & D-1SC only)
ProCharger D-1SC and F-Series supercharger upgrades (Tuner Kit only)
Race Bypass Valve Upgrade
12-Rib Supercharger Drive (requires aftermarket cranskshaft damper)
Cog Race Kits
Sheet Metal 3 Core Race Intercooler Upgrade