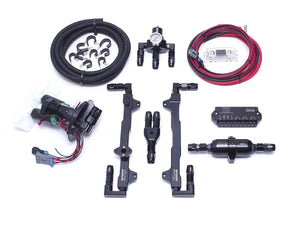 Fore Innovations - S197C GT500 L4 Fuel System (dual pump)
Although there are other options, we do not recommend a fuel system that is not safe for your vehicle and has fuel rails in parallel and the fuel pressure regulator mounted after the rails. This kit does it all with the ability to eventually upgrade for a low cost to three pumps. Base kit is okay, but it is really recommended you get our upgraded kit. 
Up to 1200+ rwhp




Fuel rails routed in PARALLEL

Fuel pressure regulator mounted AFTER fuel rails
1200+ rwhp capable return fuel system made with top shelf components. The feed line is split by our y-block, fed into the back of the fuel rails, then the front of each rail is connected to our F2i fuel pressure regulator.
S197-C Fuel Pump Module (dual pump)

F2i Fuel Pressure Regulator

GT500 Billet Fuel Rails

2-1 compact billet Y-block

88mm Inline Fuel Filter

FCV Checkvalve

All fittings, hose, and hardware necessary to complete typical fuel line plumbing
-30' fuel line (your choice)
-Qty 14 compression style billet hose ends

-Qty 6, straight AN to o-ring fittings

-Qty 6, billet low profile 90 degree AN to o-ring fittings

-Qty 2, billet low profile 180 degree AN to o-ring fittings

-Qty 2, 0.6" o-ring extensions

-Qty 10, -8 hose straps with stainless mounting screws

-Qty 2, 1/8 NPT plugs
Upgraded Kit Includes:

Ethanol blends, gasoline and race gas ability
Dual TI Auto F90000285 Fuel Pumps 
FC3 Staged Controller including wiring
Startlite -8 Feed Fuel Lines 
Stainless Steel Filtration Media (So you can simply take it out, rinse it and put it back in for life) 
0-100 psi Fuel Pressure Gauge