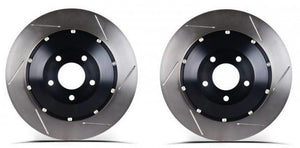 StopTech - 2015-2018 Mustang GT 2 Piece Replacement Slotted AeroRotor - Front Pair (w/ Brembo's)
StopTech's patented AeroRotors® are 2-piece replacement rotors featuring a billet aluminum AeroHat® and AeroRotor® friction ring. These rotors feature a patented AeroVane® optimal cooling vane design to improve rotor airflow, cooling and heat capacity. This improved directional design minimizes turbulence and flows up to 61% more air than any rotor tested. Better airflow means better cooling and less fade.
The 2-piece design of the StopTech® AeroRotors® allows for independent expansion of the rotor and hat without coning. Additionally, AeroRotor® assemblies are up to 8 pounds lighter than stock rotors and are available either drilled or slotted. An optional anti-corrosion gold zinc coating benefits customers who live in cold climates, where snow and road salt are commonly encountered. Zinc coating also benefits customers who prefer no visible surface rust on the vanes and outer circumference of rotors.
StopTech® AeroRotors® are 100% made in the USA, with both casting and machining taking place in California.