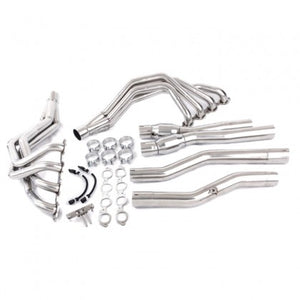 Texas Speed 25-TSPC7304HXPKG-200-CAT 2014+ Corvette 6.2L LT1 & LT4 Stingray & Z06 2.00" Long Tube Headers & Catted X-Pipe Package
We are proud to introduce the C7 Corvette headers to our TSP line of exhaust products. The TSP C7 headers are a true long tube design, not a mid-length like some of the competitors! Do your research before you buy! Our headers were tested in-house to perfect the design for maximum clearance and power gains. Some of the features are listed below:
304 Stainless Steel Long Tube Headers, Fully Mandrel Bent
2" Primaries Using Seamless Stainless Steel
Merge-Style Collectors with Velocity Spike
Includes 3" Catted X-Pipe with Custom Hangers
New GM MLS Gaskets
Includes All Necessary Clamps for a True Bolt-On Exhaust System
Will Bolt Up to Your Factory Mufflers
Includes O2 Extensions
Includes Black Powder Coated Aluminum TSP Exhaust Plate
*Please note that the 2" primary headers will have limited clearance around the steering shaft and the rest of the engine bay. Some customers may have to shift the engine over or dimple the headers to gain proper clearance because it is so tight. If you are concerned with this issue, we recommend purchasing our 1-7/8" long tube headers that provide better clearance.