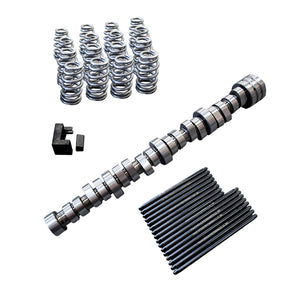 TSP - 2016 Dodge Charger Texas Speed and Performance 5.7/6.4 Hemi Cam Package
YOU WILL NEED TO PURCHASE OUR MDS DELETE KIT WITH THIS CAM PACKAGE.
With This Cam Package You Get the Following Items:
Your Choice of Texas Speed Hemi Camshaft




Your Choice of 

Texas Speed Hardened Chromoly Intake and Exhaust Pushrods

Spring options for 5.7L and 6.4L
Includes Comp Cams Phaser Lock out kit

This is the perfect upgrade package for customer looking for all the aftermarket parts needed to do a camshaft swap.  

We do offer the optional adjustable pushrod length checker that allows you to verify the correct pushrod length needed for your setup.  We can give you a good idea of what is typically used with your engine, lifter, head milling, etc., but it can certainly vary from setup to setup.  Standard length is 6.800" for Intake and 8.125" for exhaust. You can vary up to .050" in pushrod length depending on which camshaft core the cam manufacturer uses!  This is NOT information that any camshaft manufacturer includes with their camshafts, so it is always best to verify the length you need to avoid any valvetrain issues. 
*If you need parts quickly, we encourage you to call us to check availability of the camshaft you want. 
Fits: 
2009 Chrysler 300 
2010 Chrysler 300 
2011 Chrysler 300 
2012 Chrysler 300 
2013 Chrysler 300 
2014 Chrysler 300 
2015 Chrysler 300 
2016 Chrysler 300 
2017 Chrysler 300 
2018 Chrysler 300 
2019 Chrysler 300 
2009 Chrysler Aspen 
2009 Dodge Challenger 
2010 Dodge Challenger 
2011 Dodge Challenger 
2012 Dodge Challenger 
2013 Dodge Challenger 
2014 Dodge Challenger 
2015 Dodge Challenger 
2016 Dodge Challenger 
2017 Dodge Challenger 
2018 Dodge Challenger 
2019 Dodge Challenger 
2009 Dodge Charger 
2010 Dodge Charger 
2011 Dodge Charger 
2012 Dodge Charger 
2013 Dodge Charger 
2014 Dodge Charger 
2015 Dodge Charger 
2016 Dodge Charger 
2017 Dodge Charger 
2018 Dodge Charger 
2019 Dodge Charger 
2009 Dodge Durango 
2010 Dodge Durango 
2011 Dodge Durango 
2012 Dodge Durango 
2013 Dodge Durango 
2014 Dodge Durango 
2015 Dodge Durango 
2016 Dodge Durango 
2017 Dodge Durango 
2018 Dodge Durango 
2019 Dodge Durango 
2009 Dodge Ram 
2010 Dodge Ram 
2011 Dodge Ram 
2012 Dodge Ram 
2013 Dodge Ram 
2014 Dodge Ram 
2015 Dodge Ram 
2016 Dodge Ram 
2017 Dodge Ram 
2018 Dodge Ram 
2019 Dodge Ram 
2009 Jeep Commander 
2010 Jeep Commander 
2009 Jeep Grand Cherokee 
2010 Jeep Grand Cherokee 
2011 Jeep Grand Cherokee 
2012 Jeep Grand Cherokee 
2013 Jeep Grand Cherokee 
2014 Jeep Grand Cherokee 
2015 Jeep Grand Cherokee 
2016 Jeep Grand Cherokee 
2017 Jeep Grand Cherokee 
2018 Jeep Grand Cherokee 
2019 Jeep Grand Cherokee