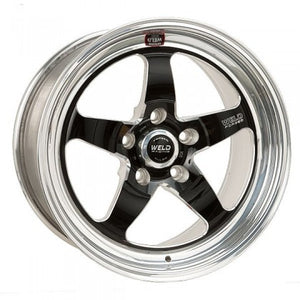 Weld Racing - (2007-18) Mustang 18x5" S71 RT-S Front Wheel for OEM Brembo's (Black)
Weld Racing brings its application flexible racing technology to the street with a budget friendly 3-pc modular wheel using a unique welded assembly process. This wheel has the classic Weld Racing 5-spoke star look and continues the Weld Racing tradition utilizing a forged billet center and cold forged rim shells. This unique wheel offers 3 mounting pad heights to clear specific drum and multi-piston opposed calipers. Target applications for this wheel include cars from the 1950's through today's challenging modern applications such as the 4th generation Camaro/Firebird, C4 to C6 Corvette, 2010 Camaro, and the Cobra Mustang.
Wheel Specs:
18" diameter
5" width
-23mm offset
2.10" back space
1580lb load rating per wheel
Conical lug nuts required
NOTE:
 2013-2014 GT500 / 2015 Mustang Performance Pack 15" OEM Brembos front side of caliper on the outer piston will contact the back of the wheel spoke. 1/4" wheel spacer is required for this application.