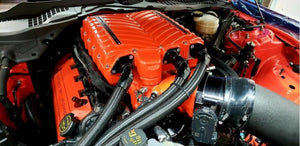 Whipple Superchargers WK-2625CJR S550 3.0L Cobra Jet Supercharger Kit (2015+ Mustang GT)
The Whipple Superchargers S550 Cobra Jet Tuner Kit 
Competition / Tuner KitKit Includes:
Gen 5 3.0L Supercharger with CJ Manifold and Intercooler
Larger CJ Intercooler Coolant Fittings
Supercharger Bracket and Idlers
Choice of 132mm or 150mm Throttle Body
Kit Does Not Include:
ATI Balancer
Waterpump and Alternator Pulley
Fuel Injectors
PCM Calibration or Tomahawk Flash Device
Fuel Pump
Spark Plugs
Heat Exchanger
Coolant Reservoir
Coolant Pump
Coolant Hoses
Cold Air Intake Assembly
NOTE: ENGINE MAY NEED TO BE LOWERED FOR HOOD CLEARANCE
While Whipple broke many rules and records with its record setting S550 supercharger system, holding the title of the most powerful, most advanced supercharger system available, we weren't satisified and decided to build an all new supercharger from the ground up.The new, direct and port injected supercharger system features the brand new Generation 5 3.0L front feed twin-screw supercharger. Not to be confused with the Gen 3 or 4, this all new Gen 5 supercharger features industry leading efficiency from idle to redline. All new bearings, gears, rotors and housing allow the new supercharger to spin faster, longer and safer while producing more power than any other positive displacement supercharger ever built..
The 2018 also features an even larger intercooler than the already massive Whipple Cooler that cooled the Ford Cobra Jets and all the record setting S550 Mustangs. Couple this with the industry's leading heat exchanger, water reservoir and intercooler pump, you get more power with lower boost levels and quicker recovery times after aggressive operation..
With years of OEM and racing experience, Whipple engineers have developed a unique PCM calibration that reconfigures all the necessary engine functions including fuel, spark, knock detection, torque management, transmission control and electronic throttle control. The vehicles PCM constantly monitors the engines torque output while monitoring many different parameters to keep the engine in it's ideal parameters. If a parameter falls below specification, the PCM will lower boost and torque output until the problem can be cured. No other calibration in the field has such technology, giving the Whipple SC system unheralded performance and reliability. Each Whipple kit comes with unique software and a OBDII flash tool giving the customer the ability to flash/update whenever needed. Each customer also gets the new Flight Control Software, ability to adjust wheel/axle size, octane adjustment, crank/cam relearn and many other unique features.